With the draft little more than a month away the Cowboys must start working on their official board. With pro days in full bloom teams are currently getting their final opinions on some of the top guys to finish-off their boards. The Cowboys are attending almost all of these pro days getting in last minute meetings and a few more looks at guys in drills before bringing in players to visit with at the Star. Some of the guys Dallas are currently visiting with at pro days are players Dallas will have interest in with their first round pick. Those are the guys we'll be touching on today.
Ed Note: Click here for Connor Livesay's Top 75 Big Board
The first guy I want to talk about is the talented cornerback out of UCLA Fabian Moreau. Moreau just suffered a pec injury at his pro day on March 20th while bench pressing. The extent of the injury is still in question. Injury aside Moreau is a legit option at 28. With CB likely one of the top positions of need for the Cowboys, Fabian Moreau is one of the only cornerbacks I have graded that will give the Cowboys good value in the cornerback position (excluding Sidney Jones due to injury). Moreau possess ideal size for a cornerback (6'0 205 lbs) and is a very fluid athlete. Moreau had a great combine, running a 4.35 40, 38.0″ vertical jump, and a 136.0″ broad jump. The former UCLA Bruin is more than just a workout warrior though leading the Bruins with 10 pass breakups and 2 interceptions in his senior year. Moreau is one of the few defensive backs in this draft that does everything well. A good open field tackler and a guy who can cover his man deep, shallow, or across the field with no limitations.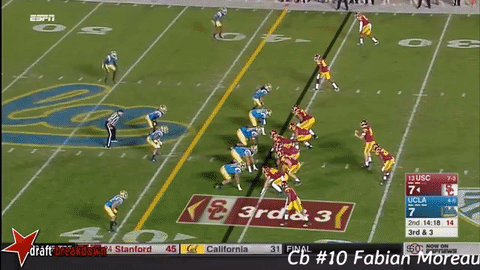 Here you see Moreau's ability to read the quarterback eyes, break on the football, and finish the play. A+ play here by Fabian Moreau.
Staying in the secondary Washington safety Budda Baker would make a lot of sense for Dallas after losing J.J. Wilcox and Barry Church in free agency. Baker is a versatile guy who is neither a true free or strong safety. Baker is undersized but plays five inches taller and fifty pounds heavier than he really is (5'10 195lbs). Baker has the range to play as a single high safety, the cover ability to play in the slot in nickel, an excellent blitzer, and a hard nose hitter that has no problem laying the wood on a receiver coming across the middle. Baker is a true hybrid player that would fit in great with a defense that needs multiple pieces right now. Baker's ability to fight through trash and come up and make the tackle on the running back in open space shows his tackling ability
Another position that needs to be addressed and probably sooner rather than later is pass rusher. The guy I am a big fan of and I believe the Cowboys will be too is Missouri's Charles Harris. Harris had a pretty bad day in Indianapolis at the Combine, but his tape screams explosive, talented pass rusher. Harris is a legitimate speed rusher screaming off the edge with his speed, power, and ability to bend. Harris has an excellent first step and consistently blew by tackles at Missouri and when that didn't work he had a rather impressive spin move he could easily set offensive lineman up with. Harris has some work to do in the run game but would instantly upgrade the Cowboys mediocre pass rush. Harris's skill set is on full display here. Explosion off the ball, ability to bend and finish all in one play. Beautiful.
Staying on the pass rush train another option that should be available at 28 is former Wisconsin Badger T.J. Watt. Unlike his older brother, T.J. lacks the ideal size to hold up as a three down defensive end right now as a prospect, but his versatility and the possibility of adding weight makes Watt and intriguing option to plug in at right defensive end. For his size (6'4 250 lbs) you'd expect him to fit that speed rusher mold but he really doesn't. Watt wins with his length and upper body strength and technique. Watt has a motor similar to his brothers and while the Cowboys would likely use him as pass rusher he has the versatility to play at linebacker too if Dallas really needed him there. Watt isn't a "War Daddy" type of pass rusher in my opinion but this deep into the first round the Cowboys likely won't end up with a player with a first round grade.
When you look at this Cowboys roster the offense looks pretty much set, other than the right tackle position. The addition of Ryan Ramczyk would fill that hole right up. Ramczyk is one of the few tackles in this class that is a true tackle in the NFL. The former Wisconsin Badger has a tackle body at 6'6 310lbs but moves very smooth for his size and has good footwork to match with his powerful upper and lower body. Ramczyk is a very smart football player that is a successful run and pass blocker. Right tackle may not be the biggest hole on the Dallas roster but depending on how their board falls Ryan Ramczyk could force the Cowboys to spend their fourth first round pick on an offensive lineman since Tyron Smith in 2011. Here is Ramczyk with a excellent rep against Taco Charlton, the likely first round prospect. Good technique makes Charlton rush up the field and past the pocket.
This draft is very deep but that depth doesn't really seem to kick in until the mid second round. It's a pretty good chance the Cowboys could get better value at 60 than they do at 28. That's something you probably don't want to hear if you're looking for that one difference maker, but any of these guys would be a big addition to the secondary, defensive line, or the offensive line.
Got a Lot to Say From RVA – Follow me on Twitter- @connorx147
Tags:
Barry Church
,
J.J. Wilcox
,
Tyron Smith
You may also like this