We are coming up on two weeks since the Dallas Cowboys adding nine new faces via the 2017 NFL Draft. As we all noticed the Cowboys front office didn't shy away from the defensive side of the ball with their draft selections making seven of the nine draft picks being defensive players. Today I will evaluate each selection by round and give you analysis on the player and my overall "Grade" on the pick.
Taco Charlton – Defensive End – Michigan – Round 1, No. 28 Overall
At 6'6 277lbs Taco Charlton fits the prototype for Defensive Ends the Dallas Cowboys love. Charlton is a long and lean end that plays with a tremendous amount of power. Taco looks the part easily in his suit and tie during press conferences and I can't imagine what he'll look like in pads. Charlton was only a one year starter at Michigan under Jim Harbaugh and raked up 9.5 sacks and 13.0 tackles for loss in his final season as a Michigan Wolverine. Charlton doesn't have much bend in his lower half but shows flashes of being able to bend the edge and get to the Quarterback. Not sure if it's a motor issue or he's just not sure how to do it yet. You will see some tape of his where he has no problem flexing that ankle getting at a 45 degree angle easily and really win the edge and get the sack or QB hit. Here is an example of a rep where he bends with ease to get the sack: This is a great rep by Taco Charlton. Explosive off the snap, wins the edge, and finishes the play by bending and dipping underneath the Tackle and getting the sack.
Here is an example of where he wins the edge but could NOT win the angle by bending and dipping under the Tackle, instead he gets turned around, rushes to far up field and past the Quarterback pocket and is a non factor in the play after winning off the line of scrimmage: Charlton's physical attributes aren't the only appealing traits about him. Charlton's ability to play anywhere along the defensive line is also a big part of his game and the Cowboys defensive scheme. Charlton has the length and show flashes of being explosive and bendy enough to be a starting Right End in the NFL. Chalrton was one of if not the best run defending defensive ends in the draft so that screams starting Left End in Dallas. The former Wolverine also has the ability to slide inside and play 3 technique on money downs, this is where I could see him getting a majority of his sacks and pressures. Taco Charlton is a solid pick for the Cowboys. A high floor low ceiling type of player who will contribute early and often. My knock on the pick is the Cowboys have a roster full of bigger defensive ends that can play left end or inside on passing downs (Crawford, Irving, Lawrence) but lack a true WDE (Right End) that can capture the edge with speed and to me there was multiple players still available that fit that WDE mold. If Marinelli gets Charlton down 10-15lbs and gets him to be even more explosive than he already is this could be a grade I will be eating crow on in a few seasons.
GRADE: C+
Chidobe Awuzie – Cornerback – Colorado – Round 2, No. 60 Overall
Awuzie was a home run value pick for me. I had Awuzie in my top 10 Cornerback rankings and had a early second round grade on him. To get him at the end of the second round was an absolute steal in my opinion. Awuzie is as versatile as they come and can play anywhere in the secondary. Awuzie had success as a boundary Corner, a nickle Corner (slot), and even as a Safety at times. Awuzie is a little under sized at right under 6'0 and right at 200lbs. However at times he plays like a 6'4 220 lb Strong Safety. Awuzie is sticky in coverage and has great instincts to break on footballs to consistently disrupt  plays or stop them as soon as they start. Awuzie is a great blitzer out of the slot and finished his College career at Colorado with 9 sacks. "Chido" needs to improve on his tackling but in the coverage aspect of the game I see his flaws as being to aggressive when using his instincts, which make him the great player that he is but also allows him to guess wrong from time to time. If Rod Marinelli and Joe Baker can pull the reigns back on how aggressively he uses those great instincts Chidobe Awuzie could end up being one of the greatest steals in the 2017 Draft.
GRADE: A-
Jourdan Lewis – Cornerback – Michigan – Round 3, No. 92 Overall
If not for the Domestic Violence charges that are currently hanging over Jourdan Lewis's head, Lewis would likely have been a top 50 pick. Instead the Cowboys took a flyer on him at the end of the third round after doing their due diligence on the situation. Lewis is a super talented slot Corner with a very high ceiling. Lewis is a very annoying Cornerback to play against because he doesn't give receivers any room in coverage and is very physical for his size. Lewis at 5'10 188lbs can handle his own on the outside as well but I think he is a pro-bowl caliber player in the slot. Lewis has very clean feet and insanely good ball skills for a defensive back. He also had a very productive career at Michigan raking up 6 interceptions in his last three years as a Wolverine. Lewis has an "alpha dog" mentality and is a very confident guy no matter who he is lined up against. GRADE: B+
Ryan Switzer – Wide Receiver – North Carolina – Round 4, No. 133 Overall
Probably the pick that may have left some people scratching their heads, but not sure I could love it anymore. For years it seems the Cowboys have had a dominant offense, an average defense, and a non existent special teams. That has changed. Ryan Switzer brings an elite style of play as a returner on special teams. Ryan Switzer likely was drafted to fill Lucky Whitehead's role but he is a major upgrade over Whitehead. Switzer along with being a dynamic returner also will be another weapon for Quarterback Dak Presscott. Switzer is almost a spitting image of Cole Beasley but I actually think he can do more. Switzer route tree is very similar to Beasley's but also has more of a down the field aspect to his game that we haven't seen from Cole. Switzer is a mismatch style of player that won't play on the outside much at all but he is very good at his job as a slot receiver. To give you an idea of what the Dallas Coaches may be scheming up imagine on 3rd & 6 we have Ezekiel Elliott in the backfield with Presscott, Dez Bryant lined up on the right and Terrance Williams lined up on the left. Cole Beasley in one slot and Ryan Switzer on the other. Good luck stopping that NFL defenses. Double coverage… makes both defenders bite on the head fake… jeeeeeesssshhhhh…
Xavier Woods – Safety – Louisiana Tech – Round 6, No. 191 Overall
The Cowboys lost Barry Church and J.J. Wilcox in Free Agency and traded a fifth round pick next year to move up and grab Safety Xavier Woods. Woods is a player that is a perfect combination of both of those players. Woods has Church's nose for the football hauling in 14 interceptions, getting 6 forced fumbles, and 181 tackles over his final three years at Louisiana Tech. Xavier has the capability to play Free Safety or Strong Safety which is exactly what the Cowboys were looking for in a Safety to match with Byron Jones. Woods has very good ball skills, excellent vision to weave through traffic to make tackles, and will knock you out cold if you try to cross him in the middle of the field. Woods is one of those guys who receivers will be keeping their eye on when they run drag routes across the middle. With all that being said Woods can improve on being more of a wrap up tackler instead an all or nothing hitter. Woods, like Awuzie has fantastic instincts and he uses them very aggressively, sometimes to a fault. Trusting what he see's and pulling back the reigns on guessing is something he will learn soon in the NFL. I wish Xavier Woods was a few inches taller but I also love the way he moves and hits at his size. I see Woods taking over a starting Safety position before the end maybe even before the start of the 2017-2018 NFL season.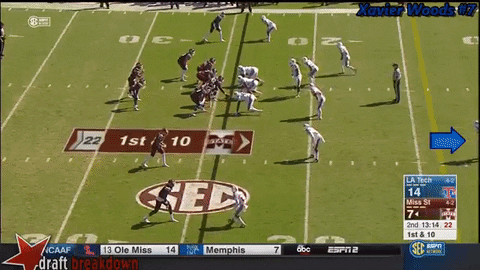 Ouch.
GRADE: B
Marquez White – Cornerback – Florida State – Round 6, No. 216 Overall
If you didn't notice the Dallas Cowboys secondary rebuild by now I don't know what to tell you. Marquez White is more of a project than a sure thing but man I love what I see from White. Like the other three Defensive Backs taken before him White is a very instinctive player who isn't gifted with the most athletic traits. White stands at 6'0 tall and right at 200 lbs with long arms. The former Seminole has decent size on him to compete on the boundary and is very physical as a run defender. White is a guy who doesn't play with great technique and is still very raw at the position but with some coaching and learning how to use his long arms at the line of scrimmage makes for a project I would be willing to stash on the 53 Man roster so you don't lose him.
GRADE: C+
Joey Ivie – Defensive Tackle – Florida – Round 7, No. 228 Overall
I'm going to honest I didn't watch any of Joey Ivie before he was drafted by the Cowboys, but man did I like what I saw once I turned on his film. Ivie is a disruptive Defensive Tackle that will likely play as a 3 Technique in Dallas's 4-3 Scheme. He has powerful hands and knows how to use them to rip and swim to get around and under Offensive Lineman even with very short arms. Ivie's game is built on his motor. Once the play starts he doesn't stop until the next play. Ivie isn't a flashy player but showed the ability to win one-on-one battles more so than he lost them. I like Ivie as the back up 3 Technique behind Maliek Collins especially if Tyrone Crawford and David Irving are going to primarily play Defensive End. GRADE: C
Noah Brown – Wide Receiver – Ohio State – Round 7, No. 239 Overall
Another great value pick here for Dallas in the seventh round. Brown isn't a burner and isn't a great route runner but he uses his big frame to shield defenders and consistently bring in footballs with ease. Brown has a huge catch radius thanks to his long frame. At 6'2 222 lbs Brown looks and plays a lot like Dez Bryant. Brown is a red zone threat due to his size and has very sticky hands. The former Buckeye didn't always have the easiest balls to catch due to the below average QB play at Ohio State but seemed to make highlight reel catches on a consistent basis. Brown loves to block which is something the Cowboys look for in their Wide Receivers. Brown is still learning the position and was supposed to be "the man" at Ohio State this year but with the spotty QB play and good running game not many footballs were thrown his way. Brown is a lot like Marquez White. The ceiling here is too high for me to cut or try and stash on the practice squad. If Brown pushes Brice Butler in training camp even after re-signing him in the offseason Noah Brown may be the new Brice Butler for the Dallas Cowboys. Look familiar?
GRADE: B-
Jordan Carrell – Defensive Tackle – Colorado – Round 7, No. 248 Overall
Was a bit surprised to see another Defensive Tackle drafted after drafting Joey Ivie earlier in the seventh round. Carrell is a big Defensive Tackle that would play the 1 Technique position in Dallas. Carrell reminds me of Nick Hayden. He offers little pass rush but is a tough man to move in the run game. Carrell is likely a practice squad candidate with both Cedric Thornton and Stephen Paea locked in at the 1 Technique position in Dallas for a few more years to come. Carrell looks like an Offensive Lineman and plays with the same amount of power as a Center or Guard. I like Carrell's potential as a developmental Nose Tackle.
GRADE: C
As you can see the Cowboys are in complete rebuild mode on the Defense. I totally believe that the secondary will be improved from last year and look a lot different. Matching Awuzie, Woods, Lewis, and White with Nolan Carroll, Anthony Brown, and Orlando Scandrick makes for a very talented, crowded, and competitive secondary room. Competition brings out the best in people and we will have plenty of competition when Training-Camp rolls around. Defensive Line battles, Cornerback battles, Safety battles, and Wide Receiver battles all stemming from what happened in the 2017 NFL Draft.
Exciting times.
Got a Lot to Say From RVA – Follow me on Twitter- @connorx147
Tags:
Anthony Brown
,
Barry Church
,
Byron Jones
,
Cedric Thornton
,
Cole Beasely
,
Dak Prescott
,
David Irving
,
Demarcus Lawrence
,
Dez Bryant
,
Ezekiel Elliott
,
J.J. Wilcox
,
Lucky Whitehead
,
Maliek Collins
,
Orlando Scandrick
,
Rod Marinelli
,
Terrance Williams
,
Tyrone Crawford
You may also like this